Lukittavat kaasujouset (Locking)
Käyttökohteet
The DICTATOR high-performance push type gas springs with additional locking allow to lift objects, fix them in any position and release them again.
Erilaiset mallit
There are available two locking types. With the cushioned locking the piston rod subsides a little in the locked position, i.e. the object can be resilient. As this is easier to manufacture this type is more economic. When the object, such as the back rest of a hospital bed, should stay firmly in the fixed position, you should opt for the gas spring with rigid locking.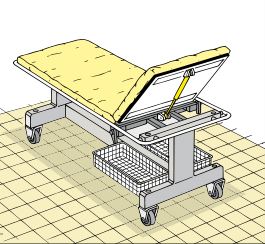 Tekninen suunnittelupalvelu
Our technical advisory service will gladly calculate the adequate gas spring for your application. Just contact us. We will find the appropriate solution to your problem, too.